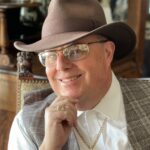 All appraisal services offered by our firm are billed either on a per-item basis or at an hourly rate.
We maintain a strict policy that our fees are never contingent on the reported values of the items we appraise.
Our standard appraisal rate is $200.00 per hour, plus applicable GST. This rate reflects our commitment to providing expert evaluation and professional service for each unique item we appraise.
Clinton Beck – Founder, Appraiser & Auctioneer